Creativity, innovation, regions, clusters, mobility, funding, education, risk, opportunity, competitiveness, sustainability, networks, integration, culture, fertile grounds, Europe, America. This simultaneously-translated, multilingual bureaucratic litany, this Powerpoint-generated "tag cloud" of policy buzzwords shaped my two-day visit to Brussels last month. But I did manage to find creative, innovative life beyond the "eurospeak" of the European Union and its institutions.
I visited the Belgian capital on Monday, 20th and Tuesday, 21st of April to attend a forum dedicated to Europe's Creative Regions and Cities. The event, promoted by EU's Committee of the Regions, brought together experts, region leaders, entrepreneurs, policy makers and a selection of 100 young creative talents from all over Europe. Inside conference and assembly halls, the forum's program and activities consisted of formal talks and panels dedicated to the nature, present and future of creativity in Europe. Monday morning's session at the Committee of the Regions headquarters was called "What makes regions and cities creative?": it was a rather structured and participatory debate, where practical cases were presented and many of the 100 talents got to speak their mind. However, that afternoon's "Making Europe more creative" and the next day's "Discovering Creative Belgium" discussions were borderline soporiferous.
In these panels, regional network members, planning professionals and directors of various sorts sat on stage with EU officials with long job titles, but short time to spend and actually take part in the conversation. The two top European representatives who came to the Forum's sessions – Ján Figel, European Commissioner for Education, Training, Culture and Youth and Odile Quintin, European Director General of the same Commission – proved to be very busy people and had to leave soon after giving their "spiel" of well-intentioned words. I had the similar "talk and go" feeling inside the European Parliament Hemicycle, during the Committee of the Regions' Plenary Session on Tuesday. Four of the talents, including myself, got to speak before the members of the Committee – state and municipality leaders from EU member countries. As I looked around the half-empty room before, during and after my speech, I thought most of the people there sat only as they waited their turn to speak and be translated into 23 languages. Few seemed to be willing to listen or even acknowledge the speaker's presence.
Outside the halls and corridors of European law and power we, "the talents", were encouraged to "mingle", or rather network, almost as kids in summer camp or on a first day of school are expected to do. And that's exactly what we did. There was even a – somewhat haphazard – themed "village" session on Monday afternoon for it, when we showed our projects to each other and talked about our achievements. The networking continued during the various coffee and lunch breaks and on the evening reception at the BOZAR Center for Fine Arts, but I would say it mainly took place in the streets of Brussels.
We made for an extremely disparate group of 18 to 30 year olds. Among us were a Maltese chef, a Spanish harpist, a Polish street activist, a Finnish animation director, an Austrian short film curator, a French synchronized swimmer, a Swedish playwright, a Turkish industrial designer and a Portuguese design critic. Our nationalities however were only expressed by our name cards – some of which inaccurately, as in the case of Italian, but Südtiroler composer Manuela Kerer, who due of her German-speaking region was "labeled" Austrian. Country labels quickly became redundant: by deliberately focusing on cities and regions, rather than nations, the debate around creativity in Europe bypassed our nation states. This started in the selection process: most of the talents were nominated by their city or region – while others, such as myself, applied directly to the Commission.
We were there not as citizens of Bulgaria, Germany, Slovakia or Ireland, but as coming from the Azores archipelago, Lodz, Flanders, Cornwall, Turku or Baden Württemberg. This supranational dimension of the event reminded me of the inspiring essay Europe's true stories by British Oxford University professor of European studies Timothy Garton Ash. In this essay, Garton Ash champions the future of Europe as something found beyond the borders of its nations: "… our identity will not be constructed in the fashion of the historic European nation, once humorously defined as a group of people united by a common hatred of their neighbors and a shared misunderstanding of their past." He calls for new story, a new narrative of Europe to be told, one that defines the continent not as opposed to a foreign other (as so often happened in history), but defined only by its own previous self "more specifically, the unhappy, self-destructive, at times downright barbaric chapters in the history of European civilization."
It may sound hyperbolic, but what I experienced in this Forum was not a celebration of European bureaucracy applied to creativity and innovation (two very abstract, almost intangible concepts) or the individual successes of 100 young Europeans. I like to think it was a possible start to a new European narrative. Like Garton Ash, I love Europe. I believe in this ambitious human endeavor, and in the people who, like the officials and the talents around me, shape its present and future everyday. I use the word "shape" as I write this during the European Year of Creativity and Innovation, when the term gains a new meaning. A lengthy title for a list of various initiatives throughout the continent, 2009's European year – 2008 was dedicated to intercultural dialogue, 2010 will be about combating poverty and social exclusion – highlights and promotes the creative and entrepreneurial spirit of Europeans. In a time when the Union is coming to grips with the shaky path of the Lisbon Treaty, soaring unemployment brought by widespread recession or the forthcoming European Parliament elections (next June), Europe's one-year, continent-wide excitement with creativity and innovation seems jolly, even frivolous.
But it isn't, and it shouldn't be seen as such. In our post-industrial, globalized world, the EU needs creativity and innovation more than ever (this was perhaps the forum's most recurrent observation). But how does that affect us Europeans? It may be unfair to say the EU is an important preoccupation of its citizens' lives, because it's not. Much like design – a substantial area within Europe's creative and innovation industries – the EU is often only noticed when it fails. In instances such as "no" votes in referenda, too strict controls and regulations or its defense policy (which is seen from contradictory to non-existent), the EU only seems to be talked about when something goes wrong. Nevertheless, its citizens have so much to celebrate, everyday – for so much of our success as individuals has been made possible by EU's structures, laws and benefits.
"Europe is an intricate, multicolored patchwork", says Garton Ash in his aforementioned essay. Not only I agree, but I would also say this is our continent's greatest advantage. Europe's geographical, cultural, linguistic and human diversity is what makes it special and unique. And this forum proved our generation is not just unique and diverse by geographical and cultural circumstance: it is also the most mobile, well-travelled, active, informed and connected to ever have lived on this continent. Take Briton Peter Symonds, who designs yachts in Vienna, or Rafael Toledo, who studied for his PhD in Poland, researched in France for his post-doc, and is now an assistant professor in Electronic Design and Signal Processing in his native Spain. Or Ewa Murawska, flutist and doctor of music, who was born in the Polish city of Pozna?, studied in Paris and was awarded over 20 international music awards and scholarships from several European countries. I could list many more examples of our peripatetic academic and professional careers, of people who studied, researched or worked in another country – or rather, in another city or region – throughout their lives. But you get the overall picture: all of us have been taken our diverse origins and experiences and intertwining them with others, creating an integrated Europe that overflows the borders of our nations – not by decree, but by the reach and breath of our interests and curiosities. The results of that intertwining were evident in this Forum, and were in my opinion its most successful and inspirational facets.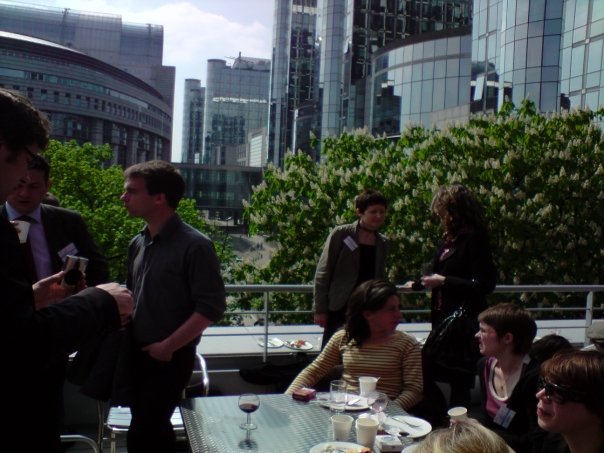 In order to thrive, EU's cities and regions should not only promote their terms of creativity and innovation by embarking in complex studies or coming up with categories and definitions. They should also promote a sort of "live and let live" agenda: pour life back into our (some more welfare than others) states; support student and young professional mobility (through the academic exchange and internship funding programs Socrates/Erasmus and Leonardo da Vinci, in my opinion the most efficient tools of European integration since the Treaty of Rome in 1957); create mechanisms that improve urban living and working conditions (rent control, infrastructure, transportation, healthcare) for all. If these circumstances are met, we, the young, talented "creative class" will come to (or stay in) our cities and regions, and flourish. As Lotta Lekvall, Director of 'Nätverkstan' in Sweden and Vice-President of the European Network ENCATC said in one the most illuminated moments of all panel sessions, we should "build less roads and more cafés", for they have been, and should still be, the meeting places, the fora, the agoras of Europe.
Luc Van den Brande, President of the Committee of the Regions, was our official host and a remarkably insightful, eloquent and humorous presence throughout the 2-day event. Nonchalantly quoting Brel and Einstein in his speeches, Van den Brande told us "proximity matters". Indeed, monsieur Président: proximity was why this Forum made sense, for we did not – really – come to Brussels to hear how creativity and innovation happen. We came here to meet and learn from each other, share our similar goals and frustrations, celebrate our diversity. But most of all we came to come together. Isn't that what a Forum should be about?
This essay was written for Michael Bierut's 5-class Short-form Essay and Blog Post Workshop. It was part of D-Crit's Print Meets the Web second semester course.