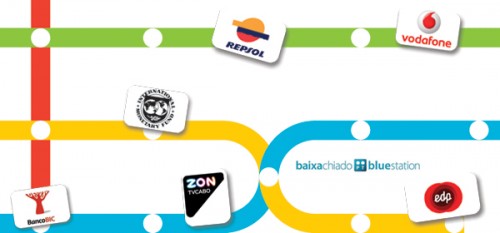 The April 2012 issue of Print Magazine comes with my article on Lisbon's mass transit rebranding, public space prostitution and sticker activism, titled Sticking it to the Man. It's such an honour to contribute to this esteemed design publication, one of "the last ones standing" in the US (and it was such a pleasure to work with Michael Silverberg, Print's awesome Managing Editor).
Since it came into being on September 2011 The Baixa-Chiado PT Bluestation became a true "bête noire" of mine. I had already voiced my indignation to Jon Henley, a Guardian journalist who came to Lisbon in October 2011 to cover the effects of the financial crisis in Portugal. I visited the station with him and Vera Sachetti; we told him how the station is a sort of metaphor of a country where the state is losing power and interest in the common good, and is increasingly giving it up to private interests.
This has obviously an impact on the design practise, as the symbolic purchasing of public space is above all a work of communication design. and it was with the tools – or weapons – of graphic design that in January 2012 a few people reacted against this operation. This article tells the story and I hope will serve as inspiration for others to use their talent, skill and craft in fighting back against corporate greed, dumb marketing strategies and ideologic and aesthetic apathy.