Simultaneamente às ofensivas bélicas trocadas por Turquia e Síria em outubro passado começava em Istambul a primeira edição de uma nova bienal de design. Cidade em muito semelhante a tantas brasileiras, que explodiram demograficamente na modernidade e andam hoje às voltas com elevados índices de trabalho informal, a metrópole turca quer trocar de papel e ser também uma protagonista industrial. Para tanto, colocou-se a refletir sobre o futuro próximo, sob o paradigma da terceira Revolução Industrial, estruturando a sua bienal em duas exposições principais: a Musibet, que significa calamidade; e a Adhocracy, o oposto de burocracia.
Se a Terra fosse uma nação, Istambul seria a sua capital. Quando há 200 anos Napoleão Bonaparte disse essas palavras, falava da sede de um império, de uma ideia de civilização, mas também de uma cidade onde a história se acumula, se expressa e se sente na geografia, na arquitetura e nas pessoas que nela vivem. Desde então, os habitantes de Istambul viram o seu império implodir, a cidade explodir e a sua ideia de civilização ser tantas vezes questionada, obliterada, reinventada. Essa capital é ideal para pensar o mundo do projeto e o projeto do mundo. É isso o que a Bienal de Design de Istambul (de 13 de outubro a 12 de dezembro) propõe a partir deste ano.
Istambul é não a capital, mas a sede comercial da república da Turquia, um estado que em 1923 se fundou moderno, laico e de inspiração socialista, mas que hoje se reinventa como uma potência regional, aliando a democracia secular, o capitalismo neoliberal e o islamismo moderado – com todas as suas ambiguidades e contradições. Essa capital do mundo globalizado expressa as tensões de uma cidade com uma longa história e uma população que passou de 1 milhão para mais de 13 milhões de pessoas nos últimos 70 anos. É nesse contexto que acolhe uma nova bienal de design.

O porquê de uma bienal
Essa bienal é o mais recente dos vários eventos iniciados em 1973 pela Fundação para a Cultura e as Artes de Istambul (IKSV), criada por um grupo de grandes empresários turcos. De acordo com o seu presidente, Bülent Eczacibasi, as atividades da IKSV são atualmente financiadas sobretudo pelo setor privado – apenas 5% dos seus recursos têm origem pública. É, portanto, numa ótica empresarial, e não de política estatal, que essa bienal apresenta o design – aqui entendido no sentido mais lato do termo, incorporando da arquitetura ao design urbano, industrial e gráfico, entre outros – como fator para o desenvolvimento do tecido industrial turco e para a produção cultural de Istambul.
A preparação da bienal começou em 2010, com simpósios, oficinas e debates que trouxeram a Istambul profissionais e acadêmicos para discutir o estado do design e o porquê de bienais como esta. Depois de Deyan Sudjic, diretor do Museu do Design de Londres e membro do conselho consultivo da bienal, eleger Imperfeição como o tema da primeira edição, Joseph Grima e Emre Arolat foram escolhidos os curadores das duas principais exposições. A programação restante inclui um ciclo de cinema, oficinas e seminários, passeios de design e um extenso programa acadêmico organizado em colaboração com 26 universidades de toda a Turquia.
Calamidade e Adocracia
Querendo expor a explosão urbana de Istambul e as consequentes tensões sociais, além de assumir uma posição de controvérsia perante o que considera eventos-espetáculos de arquitetura e design, o arquiteto e professor turco Emre Arolat reuniu na galeria principal do Istambul Modern mais de 30 projetos de 165 designers e arquitetos sob o título/tema Musibet (Calamidade). Apesar das nobres e críticas intenções do curador, a exposição revelou-se confusa, soturna, mal desenhada, com textos longos que, embora introduzissem conceitos e projetos localmente urgentes e globalmente relevantes, raramente fugiam da habitual prosa pomposa e obscura típica de arquitetos acadêmicos. Claro exemplo de uma mostra que teria se beneficiado de um bom editor de texto e um melhor designer, Musibet deveria ter ficado com seu denso e ricamente ilustrado catálogo de 510 páginas.
Joseph Grima, curador britânico e diretor da revista italiana domus, tomou a antiga escola primária de Gálata, uma das várias da outrora numerosa comunidade grega de Istambul, sob o lema Adhocracy (Adocracia), título escolhido para uma exposição "sobre pessoas que fazem coisas".
Dos 60 projetos expostos, muitos foram respostas ao desafio colocado por ele e sua equipe de curadores associados em fevereiro passado, quando anunciaram estar à procura de ideias que capacitem outros a projetar, auto-organizar-se e colaborar; desestabilizem a relação tradicional, equilibrada e triangular entre designer, produto e consumidor; realcem as implicações políticas do design enquanto prática; experimentem metodologias inovadoras de manufatura e produção; usem o design como uma forma de ativismo político; nasçam ou dependam de redes; proponham modelos econômicos não convencionais; desafiem os limites do movimento open-source e as suas implicações para a vida cotidiana; combinem técnicas e saberes tradicionais com novas ferramentas e tecnologias; não tenham autor ou tenham demasiados autores para serem contabilizados; sejam antidogmáticas; adaptem projetos existentes a novos usos; desafiem e expandam as fronteiras das definições aceitas de design.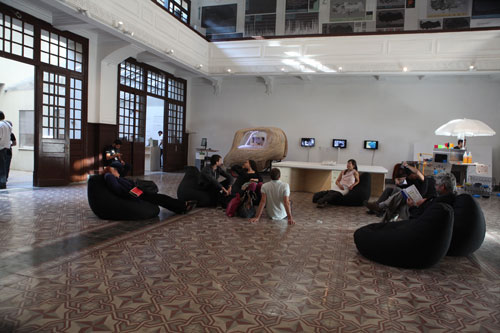 Essa lista pode ser lida como os mandamentos da adocracia, termo usado como contraponto à burocracia para descrever a relação do design com a produção material. Esse conceito alude à terceira Revolução Industrial que vivemos, descrita num relatório publicado em abril pela revista The Economist e citado pelos curadores, no qual se prevê um projeto não de forma hierárquica, vertical, ou até autoral, em que um designer projeta coisas que serão replicadas em larga escala e consumidas/usadas por muitos. Numa ideia de civilização assente na adocracia, muitos projetam e colaboram em rede, numa lógica horizontal, produzindo em pequena escala, e abordando necessidades e desejos através de novas tecnologias, como a impressão em três dimensões, prototipagem rápida e plataformas open-source.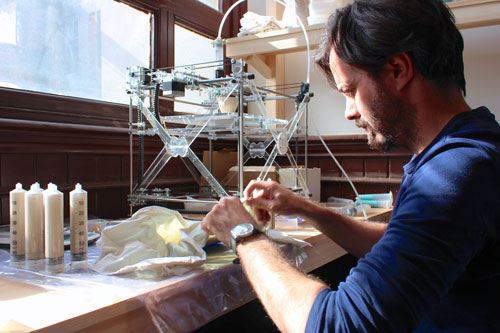 Entre corredores estreitos, salas de aula luminosas, uma das paredes exteriores e o terraço com vista sobre as águas do Corno Dourado, máquinas, objetos e imagens, estruturas e interfaces incluíram exemplos do passado, como o mobiliário Proposta per un'Autoprogettazione (Enzo Mari, 1974) ou a garrafa-tijolo para a Heineken (John Habraken, 1957), ideias e protótipos de estudantes, e produtos tão experimentais quanto reais, tão necessários como disruptivos – por exemplo, um contador de radiações criado a partir da plataforma eletrônica open-source Arduino para obter leituras da radiação alternativas às oficiais após o desastre nuclear de Fukushima, no Japão. O ginásio da escola acolheu um programa de oficinas, conversas e eventos que expande o conceito laboratorial de adocracia.
Num claro contraste com Musibet, todos esses projetos – alguns deles mostrados em abril passado, durante o Salão do Móvel de Milão, na exposição The Future in the Making, da revista domus – encontravam-se enquadrados por textos claros, concisos e acessíveis, nos quais se notou a grande experiência editorial da equipe de Grima.
Essa é uma exposição que, como poucas, fala sobre um momento no tempo: o futuro próximo. É por isso tão inspiradora como especulativa, tão otimista como incompleta. Falha ao não abordar, por exemplo, as consequências de uma total democratização no acesso dos meios de projeto e produção, e como isso vai afetar o estatuto, e a sobrevivência, dos próprios designers. Ignora que essa revolução já aconteceu no design gráfico no fim do século passado, quando o Desktop Publishing transformou qualquer pessoa num designer ao permitir projetar e imprimir coisas a partir de um computador pessoal. Um resultado disso é bem visível nas ruas de Istambul, que poderia hoje ser chamada não a capital de uma nação mundial, mas a capital mundial da Arial. Esse tipo de letra gratuito da Microsoft, cópia barata da Helvetica, substitui-se a outras em ementas, letreiros de lojas ou lápides de monumentos, empobrecendo o que outrora foi uma cidade graficamente mais rica.
Tal como as suas duas exposições nucleares, a Bienal de Design de Istambul está, como a cidade que a promove, longe de ser perfeita. E ainda bem. Terá, esperamos, um longo futuro para continuar a nos ajudar a observar e a questionar o projeto do mundo, a partir de uma das suas grandes capitais.
—
Esta recensão da Bienal de Design de Istanbul foi publicada no número 394 da revista Projeto Design em Dezembro de 2012.